Maha Shivratri or Maha Sivaratri
or Shivaratri or Sivaratri (
Night of Shiva
or "Great Night of Shiva") is a Hindu festival celebrated every year on the 13th night/14th day in the Krish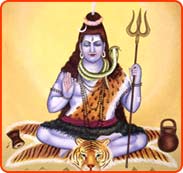 na Paksha (waning moon) of the month of Maagha (as per
Shalivahana
) or Phalguna (as per
Vikrama
) in the
"Hindu Calendar
" (that is, the night before and day of the new moon). The festival is principally celebrated by offerings of Bael (Bilva) leaves to the
Lord Shiva
, all day fasting and an all night long vigil.
"Shivaratri 2009 is on February 23, Monday
"
Shivaratri the wedding day of Lord Shiva and Parvati. Many however, believe, Shivaratri is the night when Lord Shiva performed the
Tandava Nritya
- the dance of primordial creation, preservation and destruction. Celebrating the festival in a customary manner, devotees give a ritual bath to the Lingam with the
panchagavya
- milk, sour milk, urine, butter and dung. Celebrations of Shivaratri Festival mainly take place at night. Devotees of Lord Shiva throng Shiva temples across the country and spend 'the Night of Lord Shiva' by chanting verses and hymns in praise of the Lord. The festival holds special meaning for the ladies. They pray to Goddess Parvati also called 'Gaura', the giver of 'suhag' for good husbands, marital bliss and a long and prosperous married life.
Send Telugu Shivaratri greetings, Ecards, SMS messages
to family and friends
Send Free Kannada Maha Shivaratri greetings, ecards, SMS messages
Tamil sivaratri greetings, SMS messages