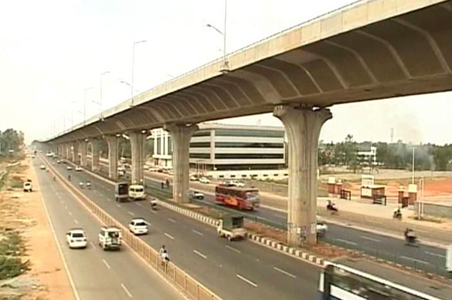 In Bangalore, commuting to Electronics City has been a stressful part of life for lakhs of employees at IT firms like Infosys. Now, after four years and 776 crores, an elevated expressway designed to make the commute shorter is ready.

When the government of Karnataka planned the Electronics City on the outskirts of Bangalore, it did not perhaps factor in the unbearable traffic burden that commuters on Hosur Road would have to face. But the complaints and clout of IT giants led to the planning and execution of this massive project - a nine-kilometre expressway leading right into Electronics City.

"It is unbelievable how much we have suffered. From 1994 till today, I could estimate we could have lost 15-16,000 employees just because they did not want to spend commute time on the road," says Mohandas Pai, board member at Infosys. "Electronics City alone gives 7.5 to 8 billion dollars of software export," he adds.

The original Hosur Road route from Silk Board junction to Electronics City took up to an hour and 10 minutes in peak hours, because it was a two-lane road. With the new four-lane elevated expressway - which also has 10 lanes below - Bangloreans can cover the distance in just 10 minutes.

The few kilometres from Bangalore into Electronics City have eaten away hours from the daily lives of commuters. People working in this area hope this elevated expressway will improve the quality of their lives by shortening their commuting time.

But will it make a difference, or just change the location of the bottleneck?